September 1962 – Fifty Years Later
PREPARING FOR A COUNCIL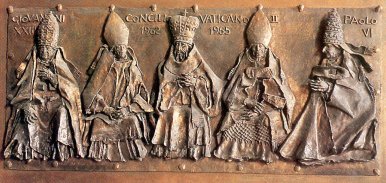 "Bishops, come to Rome!"

Pope John XXIII joyfully called out in the fall of 1962.
Since January 1959 – when the Pope startlingly announced an Ecumenical ("Universal") Council for the whole Church – Rome and the Vatican had been getting ready for 3,000 "temporary residents".

The Catholic Bishops from around the world, their "periti" (expert theologians, specialists in Sacred Scripture, Patristics, Canon Law, Dogma, Moral Theology, Church History and even the Social Sciences) and the officially-invited Auditors and Observers, had all been preparing for the convening of the Second Vatican Council.
An ecumenical, or general, Council is a solemn assembly of the Bishops of the Catholic world, called by the Pope,

to consider and decide under the presidency of the Pope matters concerning the expression of the Catholic Faith.

In the time of the Apostles, as recounted in the New Testament,

around the year 48 A.D. a conflict arose in Antioch (cf. Gal. 2:4), and the community there sent Paul and Barnabas to consult Peter, the Apostles and Elders of Jerusalem (cf. Acts 15:31).
In the long history of Christ's Church, Vatican II would be the 21

st

and largest Council – 2,540 Council Fathers would participate.
The first world-wide Ecumenical Council was held in 325 A.D. at Nicea, where 318 Church leaders gathered; the most recent Council had been Vatican I (from 1869-70), where 744 took part.

The most widely-known act of Vatican I was its definition of papal infallibility.
Pope Pius XI had considered a Council in the 1930's and Pope Pius XII had done the same in the 1950's.

Pope John's Council would focus on the role of Bishops and the pastoral ministry of the whole Church: an aggiornamento for the Church "today", in the modern world – the Church "ever ancient, ever new."
Pope John foresaw a "new Pentecost."

On every continent, clergy, religious and laity were praying to the Holy Spirit for the success of the upcoming Council:
Grant that your labors and your work, toward which the eyes of all peoples and the hopes of the entire world are turned, may abundantly fulfill the aspirations of all.

Look down benignly upon the pastors of Thy Church. May the light of Thy supernal grace aid them … Graciously hear the prayers which we pour forth to Thee in unanimity of faith, of voice and of mind.

O Mary, Help of Christians, dispose all things for a happy and propitious outcome.
The prayer was being offered in parish churches, schools, homes, monasteries, convents and cloisters.
Meanwhile, the thousands of Bishops, along with certain faculties from various theological universities, were suggesting subjects for discussion at Vatican II and forwarding them to the Preparatory Commission for the Council.
(NEXT WEEK: PREPARING TOPICS FOR VATICAN II)
--

Monsignor John T. Myler